Tribute to Sona and Tamás
TWB's 2022/23 season marks the final performances and retirement of TWB artists Sona Kharatian and Tamás Krizsa;  Sona has been with TWB for over 20 years and Tamás for over 15 years. Their beautiful talents and artistry have graced the stage time and time again, and their steadfast presence with the company on stage will be missed. We are so proud of their accomplishments and we are delighted that Sona and Tamas will continue to shape the Company through their new leadership roles as part of the artistic staff.
Congratulations Sona and Tamás on your incredible careers! Keep reading below for messages and tributes that celebrate Sona and Tamás.
We invite YOU to share with us your memories and reflections on Sona and Tamás' careers. Fill out this form to share your tributes and we will add them to this webpage.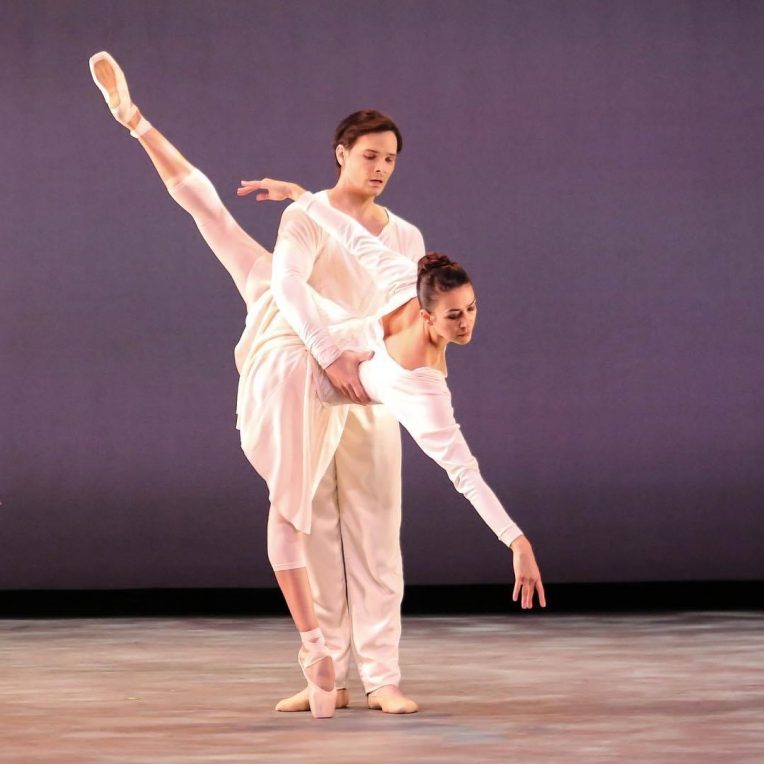 ---
Sona has been an inspired muse to so many choreographers that have created at TWB, bringing her unique star quality to every role…dramatic flair, exciting physicality, sensitive artistry and singular beauty.
She is a respected colleague and beloved member of the entire TWB community. These past 6 years, Victor and I have loved working with Sona in the studio, and marveling at her impressive range and glorious performances. We are very excited to experience all that she will contribute to TWB in her new role.
Tamás is part of the foundation of TWB. He is a trusted friend, adored teacher, encouraging and optimistic colleague and always has wonderful ideas and energy to contribute to any endeavor. His performances reveal his genuineness, impressive strength and sensitivity and his choreography allows for us to see even more of his artistic depth. 
Victor and I are thrilled to have two gifted artists and special individuals join us on the Artistic Staff.
– Julie Kent, Artistic Director of The Washington Ballet
Sona exudes a stylish and soulful luminosity whenever she walks on stage and I feel so fortunate to have had the honor to work with her for so many years.  She was a muse for me in so many ways and I have so many great memories of making scores interesting and at times truly unexpected pas de deux together in particular.  Sona knows how to inhabit a character, and how to utilise her technique in service of an idea.  I am grateful for all of the memories we created together and thrilled that she will evolve into a new role with The Washington Ballet, a company I love so dearly. 
Sending lots of love from Hong Kong!
When I think of Tamás Krisza I chuckle at the juxtaposition of his tall, handsome and powerful presence onstage, against the wacky kid in the studio who is always seems about to play a practical joke on colleagues, or pop up with hilarious new video he's made, or show off some new death-defying lift he's invented, usually with Maki Onuki in an impossible position flying somewhere in the air. Tamás is true sterling silver—he's the kind of partner any ballerina would want and dancer and any director needs.  For so many years, Tamás has been such a positive force within The Washington Ballet, and was an important part of so many new works we made together in DC over many years. I know DC audiences will miss him onstage, but TWB will be all the stronger going forward with Tamás as part of the artistic team.
Hugs from Hong Kong!
-Septime Webre, Former Artistic Director, The Washington Ballet (1999-2016), Artistic Director, Hong Kong Ballet (2017-present)
Well, I will take this from Hemingway (taken from Bill)…."Nobody ever lives their life all the way up except bullfighters"…….well I would change that to "except dancers." Both Sona and Tamás have lived their lives "all the way up" – the highest level of commitment and dedication, hard work, good and generous in spirit, willingness to give of themselves to the treasure of their art, eagerness to venture into new territories fearlessly. And, of course there is their actual movement – so musical, so wedded to the endless varieties of music in their midst, eagerness to put their bodies on the line with the mood of any piece – fully and deeply.  And, lest I forget – what wonderful, gracious, grateful, kind, sympathetic, and loving people they both are.
Who wouldn't want Sona and Tamás to be a part of one's life.  I feel so privileged to have watched them all these years and I will support them in every venture they next take on. Especially in the service of TWB!
– Eve Lilley, TWB Board Member
Beyond Tamás' athleticism and artistry lies a mischievous and playful demeanor that translate perfectly to some of the roles he has portrayed. Picture a vinyl-clad, hoop-skirted Tamás lolloping around the stage as the Duchess in Alice (in wonderland), tossing his partner, the Cook, as if he were an omelet in need of flipping. Serious about his craft, yet Tamás instinctively knows when levity is needed or appropriate, both on and off the stage.  
Along the way I figured out, when Tamás is asked how he is doing, and he replies, "Good-ish," it means everything is ok in his world. Tamás has become a beacon within the company, and I suspect if he were asked how he feels about the next phase of his career with the Washington Ballet, he would say, "Good-ish."
Queen of Hearts (Alice(in wonderland)), Myrtha (Giselle), and Brett (The Sun Also Rises): All independent, absolute, strong-willed, and confident women. With the ease of breathing air, Sona is able to embody and imbue these characteristics into these three female roles with grace and sophistication. That's not all: Sona's versatility allows her to vacillate between the various modes of ballet with ease. Always exciting to watch Sona's facile-footed, springing steps in Trey McIntyre's energetic works: A Day in the Life; High Lonesome; Like a Samba; and Mercury Half-Life. In a particular performance of High Lonesome, the front of Sona's dress completely tore in partnering. Her cool headedness and professionalism propelled her to complete the piece without breaking momentum. I don't think the audience even knew until bows.  
However, Sona and Tamás are so much more than the roles they have performed. They are the culmination of every dance step learned and taken, every relationship and partnership formed in the studios and on stage, every bit of sacrifice, and every bead of sweat born of tenacity and perseverance. 
I've had the privilege to bear witness and play a participatory role in Tamás and Sona's day-to-day lives during their tenures at The Washington Ballet. As they grew, so did I, and every step thus far has been a pleasure.
– Monica Leland, TWB Wardrobe Supervisor
From very early on in her tenure at TWB, Sona was a standout. From a very young age, she already had a presence that commanded an audience's attention. It was no surprise that she quickly became one of Septime's main leading ladies. Some of her most memorable roles (to me) are her sinuous, aloof Caterpillar and her sexy, dominatrix Red Queen in Septime's 'Alice in Wonderland', but perhaps my favorite was her ensemble work in Mauro De Candia's often humorous and bizarre  'Bitter Sugar'. She is especially adept at inhabiting a character, be it in a story ballet, or in an abstract piece. She is also very capable of finding the humorous aspects of a performance, and really shines in roles that require her to be silly, awkward, or even to do movements that seem inelegant or strange.  She is a consummate professional and is someone a choreographer can always rely on to be watching, learning, and exploring.  I believe she is a natural fit as ballet master, and our dancers are lucky to learn from her.
Tamás often wears a shirt with the Superman logo, and I always feel like that logo simply refers to him. He is so strong and smart, but moreover, so caring and nurturing. From the time he arrived at TWB, he was a dancer you could always rely on to help wherever needed. As his confidence grew in his own abilities, I saw him move more into the role of teacher, helping his fellow dancers with a move or technique. As a performer, his gentle, strong personality often showed through, making him a natural for the princely regal roles. His blossoming choreography also draws on that same aesthetic and blends his natural intelligence and creativity with an innovative mind. He is always thinking, always looking for a new way to move ballet forward. Our dancers are lucky to have him too.
– Karen Storms, TWB Director of Production
Oh, that cherubic face and dazzling smile shines all the way to the upper balcony yet belies Tamás' consummate team spirit and endless desire to do whatever it takes to ensure the show goes on.  He is a true gentleman on and off stage and a great role model for aspiring dancers.
– Sylvia de Leon, TWB Board
Congratulations on your retirement and your wonderful career!I had so much fun working with you and you inspired me in many ways since I got in to the company.Best wishes as you embark on this new journey!Love, Ayano
– Ayano Kimura, TWB Company Artist